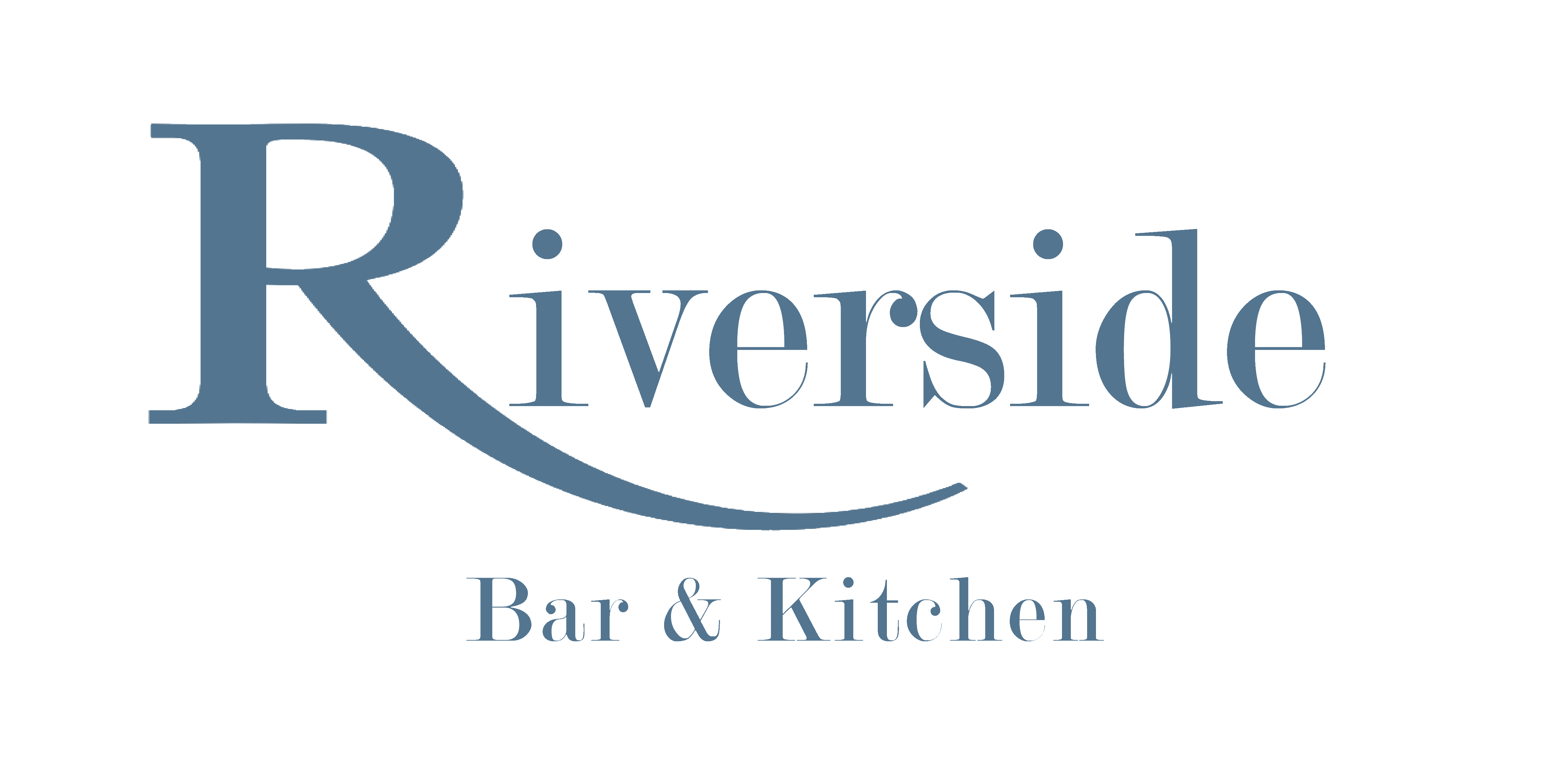 Quality Food, Inspired Cocktails, & A Great Selection of Beer & Wine
Riverside Bar & Kitchen is the perfect place to unwind, located off the lobby of the Fairfield Inn & Suites by Marriott – Northfield. Enjoy great views of the Cannon River, Carleton College & Downtown Northfield while enjoying great food and drinks in the newly updated bar or on the amazing deck.
From the Bar
From the Kitchen
When the Fairfield Inn & Suites opened in Downtown Northfield in the fall of 2018, the Bar quickly became a favorite spot for hotel guests as well as local patrons looking for place to unwind. Our inspired cocktails and simple yet delicious shareable food offerings provided in a beautiful setting along the Cannon River kept them coming back.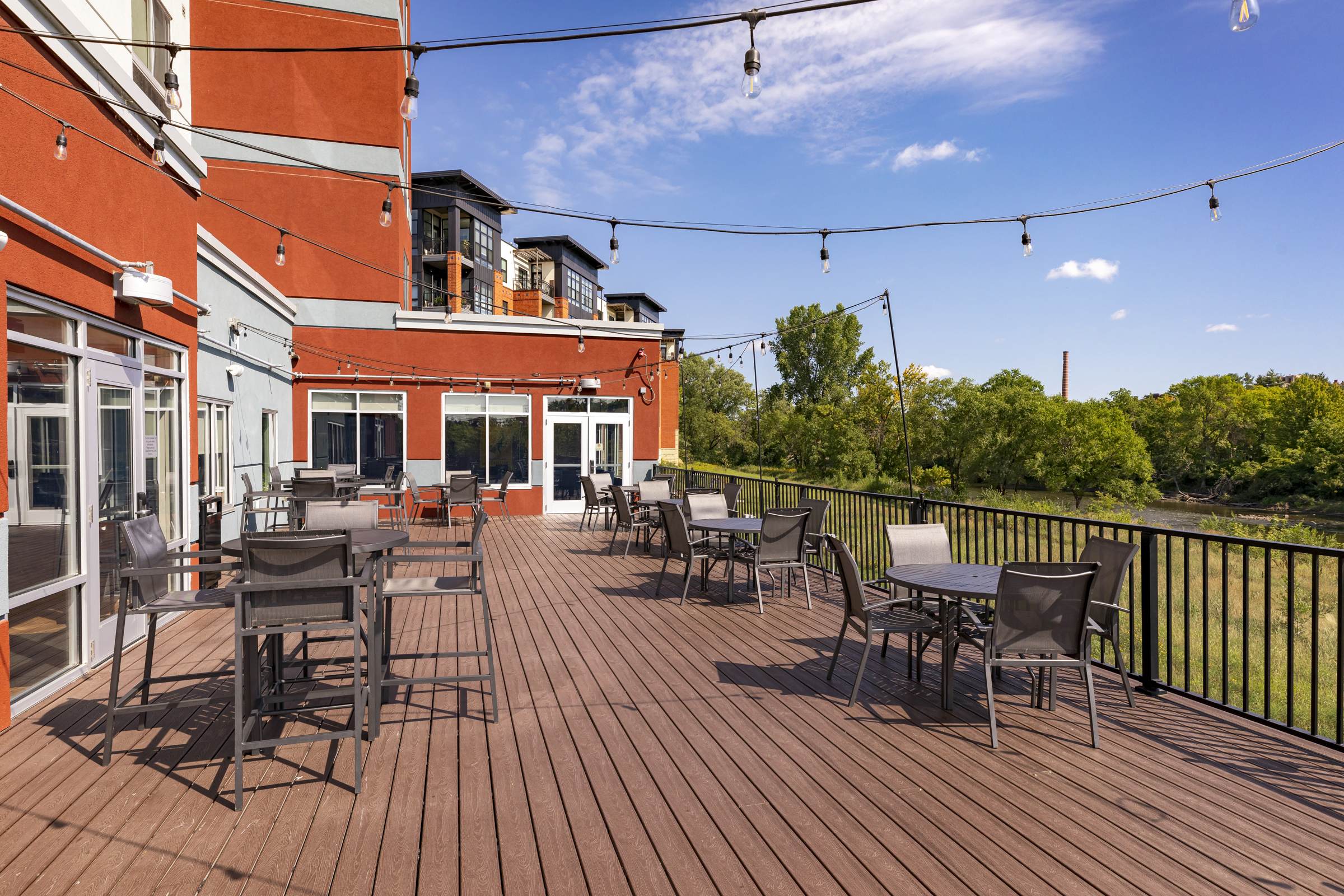 One of our most popular items since we opened in 2018. Seared steak on toasted crostinis with whipped goat cheese, basil pesto and balsamic glaze. These are a must try. 
You can't go wrong with grass fed beef, pepper bacon jam & cheddar cheese. These come as 3 sliders so you can share, but chances are you won't want to.
These asian inspired sweet and spicy shrimp are bursting with flavors that will have you "banging" down our door for more.
With our great selection of bourbon, our bartenders are ready to serve you our favorite of the classic cocktails.
Whether you prefer tap, bottles or cans, we have a wide selection of craft beer for you, including many local options.
With options like the Funguy with assorted mushrooms and the Wiseguy with Italian meats & pepperoncinis. Make sure to bring enough people to try more than one.
From potstickers to ceviche, chicken satay to soft pretzels we have flavors for every craving! Check out our menu for all of our offerings
Our bartenders have perfected mixing up some of your favorite cocktails along with some inspired craft cocktails you won't find anywhere else. Check out our cocktail list along with wine and beer choices.

"The bar / restaurant area overlooking the river is awesome. The happy hour menu is surprisingly extensive and impressive! The portions were almost too big. We loved it so much, we ended up canceling our dinner reservations elsewhere and stayed put to enjoy great apps and beautiful views. The wine and specialty cocktail options were great."
-Sasha

"The deck is an excellent spot to relax having a drink over looking the Cannon River. You can hear the River bubbling as you relax and take in the historic downtown Northfield"

"This is just a wonderful place to come and have drinks and appetizers. The staff is very friendly and always wonderful when I come in."
– Megan

"A beautiful addition to Downtown Northfield"
"You can come in for a drink and a bite to eat and enjoy this beautiful addition to Northfield. Conveniently close to downtown. I can't wait for summer to sit on the outdoor deck overlooking the Cannon River.
– Steve
SUNDAY – THURSDAY
4:00pm – 11:00pm
FRIDAY & SATURDAY
4:00pm – 11:00pm
114 2nd Street West
Northfield, MN
Located adjecent to the Fairfield Inn & Suites lobby